Introduction
THE SEVEN STEPS
Step 2:
Extension of Self Care
Step 4:
Training of Basic Health Consultants
BOOKS & ARTICLES
Handbook Holistic Health "Flow System Therapy"
Project Normalization of Blood Pressure
Boosting your immune-system e.g. prevention of cold, flu, virus infections and SARS
Stress, Burn-out & Regeneration
RSI & pain treatment through Chinese Guasha
Excursion: Guasha Therapy Training
STEP 4: TRAINING OF BASIC HEALTH CONSULTANTS
Optimaal VitaalÒ BHC Training
1. The key activity of VITALWORLD is health education. Its aim is to help people helping themselves. The main program is the training of "Basic Health Consultants", a program which qualifies the graduates to develop and implement local health programs based on the flow system. It consists of a flow system training program, in which the participant will learn the basic principles of prevention, to optimize basic metabolic functions and the promotion of a healthy lifestyle. The miracle is, that by promoting health only - without at all considering symptoms, disorders or disease - the condition of the client will (dramatically) improve. The Basic Health Consultant (BHC) is the cornerstone of the New Health Care. Through optimal guidance (in Self Care) an estimated 50-70% of all complaints, disorders and diseases may be prevented or (indirectly) cured. The consultant supports his/her clients in all matter concerning "a healthy lifestyle", in particular the Personal Health Plan.
2. The first try out of our educational system took place 1992-1994 in Holland, where students have graduated as a "Basic Health Consultant". However, our pilot project was Curitiba, Brazil though. The WHO Healthy Citizens Group in collaboration with IPPUC, together with the hospital "Erasmo do Roterdam" organized very successful courses for the City's Secretaria's, the poor in the slums and for the Secretaria of Nutrition and Agriculture. The response to the courses was very encouraging indeed. It stimulated us to develop the flow system as a multipurpose training, suitable for every situation.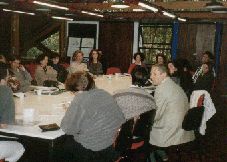 Our project in Brazil
Optimizing health will automatically cure disease
3. Optimaal VitaalÒ is our Self-help Course for Basic Health Consultants*. Usually, the students will be put forward by the Street Health Teams. They are usually lay-people. Some additional regular para-medical knowledge e.g. in physiology, pathology, nutrition and hygiene is recommendable. Our internet curriculum is based on the OVC Health Check-up (See Step 2). It means, that every future Basic Health Consultant - after having sent his/her CV and after having been accepted - is going to participate in this course**. In order to do so the candidate is filling in with questions about his/her own health, after which he/she will receive recommendations for three months, all based on the flow system and coded as indicated in the Flow System Therapy handbook. The difference with others (those who are doing the same thing as a Check-up), is that the former will be receiving learning tools regularly, like multiple choice questionnaires**, to be filled in regularly. Through these forms the students will be given a chance to show their knowledge about the theory and practice of the flow system and its applications e.g. the soil, nutrition, digestive system, blood circulation, metabolism, detoxification and elimination. These forms will be corrected by us, and returned to the students as a valuable feedback. The core of the training thus being (cognitive) learning, while simultaneously undergoing it, indeed learning through self-experience!
* Under certain conditions our Training will be open to other health care workers, physicians, physiotherapists, nutritionists, nurses etc. as well.
**In case a future BHC already has an optimal health with no complaints (whatsoever), a certain combination of therapies will be sent to him/her every three months, with which he/she will then experiment.
*** Other teaching tools are résumé's, work placement and a final examination paper. The fee for the Training will be Euro 360+80+25, including three health check-ups, the subscription, examination fees and the Flow System Therapy book, excluding costs related to work placements. Candidates from the Third World without any means don't pay.
4. Additionally, they have to get themselves involved in emotional self-integration*, a method that aims at emotional/psychological balance, which is a pre-requisite for guiding other people. Once settled down, the Basic Health Consultants will be involving themselves in facilitating a Street Health Team, assisting people in doing the Personal Health Plan, stimulating mutual aid among people, selling OVC Health Check-up packages, taking initiatives in promoting the New Health Care, giving advice on a non-toxic household, while cooperating with the other echelons (Holistic and Technological Medicine) in the neighborhood. BHCs oblige themselves in working in the neighborhood for the neighborhood, doing their work in a selfless way. Since the client is paying only a (voluntary) donation, the BHCs are receiving a percentage of every OVC Health Check-up package they have sold. Additionally, BHC's may very well combine their voluntary work for VITALWORLD with other activities, through which income can be raised. A good idea is to simultaneously work as a therapist. We are promoting this option by offering you courses in one of the most successful therapies ever: Guasha (See: Appendix). Moreover, the prospect of a career will be hold out to you. Depending on certain criteria the BHC may move up to the function of Commune, County and Regional Health Consultant with corresponding increase of income.
* See Emotional Self Integration
5. Self experience, learning and a career together will help you in getting some idea of the flow system's enormous potential, which in the future may lead to permanent extension of your knowledge. Obviously doing the nine! months OVC Health Check-up yourself is a conditio sine qua non (i.e. is a necessity). We have chosen the most optimal way of learning: studying and self-experience having a continuous feedback to each other. The course is flexible while depending on the local situation. The result will be, that after successfully completed it you not only have managed "to take your health in your own hands", but to also help others to do the same. P.S. The training does not aim in any way to treat diseases, it rather exclusively will be improving your health by optimizing your basic functions only. It will be concluded by an examination.
Everybody should have a basic knowledge
about health
6.
Example of a Contract
* The BHC is the cornerstone of the New Health Care, with its three echelons
of Self Care, Holistic and Technological Medicine respectively
* The qualities of a BHC are experience, motivation, compassion and
commitment, besides independence, reliability, courage
(to start somewhere in no-(wo)mansland), innovative
and organizing talents
* The training of the BHC consists of nine months' OVC Health Check-up
Self-experience e.g. correspondence course followed by a work
placement. After successful completion a diploma
will be handed out
* The BHC is street e.g. neighborhood-oriented
* The BHC is part of the New Health Care. He/she is supported
by the latter and vice-versa
* The work of the BHC consists of e.g. promoting the Personal Health
Plan, supporting the Street Health Teams, while initiating the
New Health Care wherever possible
* The BHC's attitude is an selfless one. His/her income consists of donations
from the clients, a percentage of the sales of OVC Health
Check-up packages and sources of income related to other activities
* The BHC is practicing helpfulness in the interests of the people. He/she has
a cooperative attitude toward other health care workers e.g. echelons
or/and organizations, the local health food store, the BHCs of
other neighborhoods, women, environmental and
organic agriculture groups
* In case of conflicts with colleagues, clients or other workers of the
NewHealth Care the BHC submits his/her case to
the Regional Coordinator
* The BHC has the possibility of further education,
training and career chances
7. VITALWORLD is an integrated approach to health promotion, prevention and (indirect) cure of most "civilization related" disorders. It is going to become the corner stone of public health worldwide. Especially in those countries, which are not able to finance a costly Western-style medicine - which in many cases already proves not to be the answer to many basic health problems - VITALWORLD fills in the gap. It is universal because of its ecological principles and is easily understood by people of all traditions and cultures. Again: we need a health-oriented, rather than a disease-oriented approach to solve the current health problems. We pursue our goals by both offering communities around the world a health-oriented educational training program as well as helping governments innovating their Public Health Services. Our organization is characterized by more than 30 years of medical experience - education, prevention, therapy and consultancy - its compact size with high efficiency, great flexibility, cost effectiveness, non-profitability and a great deal of dedication and effort. Its director is Mrs. MeiMei Yu, MA, specialist regional health development and Guasha therapy. The honorary president is Han Marie Stiekema, M.D. Candidates for the Basic Health Consultant Training may send their CV to us.
Appendix: Guasha Therapy Training
8. As mentioned above (step 2) this unique Chinese therapy will be part of the skills of the Basic Health Consultant. It promotes inner clarity, balancing and renewal, detoxification, activating the blood circulation, dissolving blockades, strengthening the immune-system, stimulating basic functions and organs, treating pain, vitalizing energy, restoring and optimizing health. As a self-help technique it is highly popular in China. It is a replacement of acupuncture, massage, reflexology, cupping and many others more. We teach the "Magic Three", a combination of three major techniques, which prove to be highly effective in countless cases: nutrition (+supplements), bowel cleansing and guasha. Moreover, Guasha can be taught not only as a preventative measure, but also as a therapy for treating numerous (chronic) disorders. In that case you may participate in the Guasha-therapy course (consisting of the basic and the follow-up course), which entitles you to fully work as a Guasha-therapist, creating income of your own. In this case two things are combined: your volunteer work for VITALWORLD based on voluntary donations and the treatment of disorders through Guasha, which is entirely your own business. See: www.meihan-guasha.nl
9. Your teacher will be MeiMei Yu, MA, our director and coordinator. In 1990 she came from China to Holland in order to complete her studies "Regional Development" with interest in epidemiology. Before she studied Chinese Traditional Medicine, only to be continued after her graduation. She managed to acquire a very impressive expertise in both TCM and Western Natural Medicine. Together with Han Marie Stiekema she has been involved in setting up a health centre in a Spa hotel on Madeira during one year, after which she followed him to Brazil, where she has set up the project "Normalization of Blood Pressure", while working in a hospital for the poor. It coincided with her discovery of Guasha, a therapy which she subsequently introduced to Holland. Ever since her reputation as a teacher and therapist has grown to such extent, that both practice and courses are continuously extending. Her dedication to the work is exceptional. In the last two years she managed to "deliver" around 150 new Guasha therapists. She receives invitations from all over the world. Obviously, we are very happy, that she decided to integrate her work with VITALWORLD.


Last update: 08/10/12