Introduction
THE SEVEN STEPS
Step 2:
Extension of Self Care
Step 4:
Training of Basic Health Consultants
BOOKS & ARTICLES
Handbook Holistic Health "Flow System Therapy"
Project Normalization of Blood Pressure
Boosting your immune-system e.g. prevention of cold, flu, virus infections and SARS
Stress, Burn-out & Regeneration
RSI & pain treatment through Chinese Guasha
Excursion: Guasha Therapy Training
STEP 7: NATURAL MEDICINE FOR
THE "THIRD WORLD"
Health for everyone
1. Finally, the poignant situation of millions of people, who don't have the means, to even provide in their most basic needs. After having read the previous steps, it will be clear to everyone, that the flow system could play an important role here. Isn't it a system for optimizing basic functions after all, cheap, comprehensible, simple and effective? It not only gives a clear insight in what is needed and possible on basic levels, but it also corresponds to ideas of people of other cultures. Unlike the imposed Western models - cultural, social, economic, religious, medical - the flow system is very similar to models of Traditional Medicine all over the world, e.g. Indigenous, Ayurvedic, Chinese, Arabic and European. Hence, the flow system fits very well in local situations, without imposing something alien from outside. On the contrary, once incorporated, it will support the people's own strive for cultural, social and economic self-reliance and self-determination. The need for the "quality of life" isn't a Western privilege after all. Poor people of the slums have a very clear idea of optimizing their situation. Many of them remember the past, in which they had a life of prosperity, co-operation and happiness. Their deepest desire is to restore their cultural, religious, social, economic and ecological integrity.
2. The example of how VITALWORLD works is the cooperation with local organic farming initiatives. The optimal fertility of the soil is a precondition not only for the regeneration of the soil itself and high quality crops, less pesticides and pollution, the self-reliance of the local community and a contribution to nature conservation, but also for achieving optimal health. Therefore the fertility of the soil and organic agriculture are the cornerstones of our approach. Through our training program the farming community is able to connect its activities with optimizing the health situation of its members.
3. For this purpose, I have initiated VITALTHIRDWORLD. The basic idea is to raise funds to make VITALWORLD available to the poor, wherever it is needed. In my lectures for colored people (Caribbean), Asian people (Chinese), Arab people (UAE), black people (Ghanese), people of the slums (favela, Brazil) etc., I was surprised about the reception of the flow system. Very "simple" people could easily understand the logic, they accepted it with great enthusiasm as "their" model, very suitable for "people's health" as they saw it. They had a great sense of the possibilities of Self Care and natural ways of healing! My lectures included nutrition, self-help techniques, medicinal herbs, personal hygiene and the environment, a basic package of provisions, necessary for survival and improving one's health. Hence, everybody should have unlimited access to VITALWORLD. For instance, the poor have the right to equal access to organic wholesome food. According to us the minimal health requirements for the poor is enough water and land on which people can grow their own staplefoods, like potatoes, rice, manioc, tapioca and pumpkin, their cereals like corn, millet, buckwheat and quinoa, their fresh vegetables, their beans and soybeans. Every local community should strive for organic quality with the help of green legumes, compost and other organic material.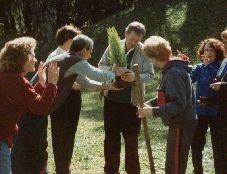 Planting a "Tree of Life" in Brazil
4. Another example of how the program of VITALWORLD can be called in is our cooperation with nature conservation organizations. For one of the (major) problems in protecting a natural reserve is the attitude of the local people living next to it. The success of protecting endangered species largely depends on cooperation with surrounding communities. How to gain the active cooperation with locals is a task conservation organizations often encounter. VITALWORLD with its health and ecology centered approach can be a great introduction to take up with the interests of the locals. In return for optimizing their health, together with greater understanding of ecology and its value, these people will be more willing to cooperate with the principles and practice of nature conservation.
5. Based on the flow system, VITALWORLD offers concrete non-profit help to poor countries through support of local initiatives, women's groups, non-governmental health and environmental organizations, governments and e.g. universities. To educate Basic Health Consultants is one of the cornerstones. The aim is educating people in self and mutual help, helping the community to become healthy, including agriculture as well as the environment, while simultaneously working on a New Health Care system. This consists of the three layers of Self Care, Holistic (Traditional) Medicine and Technological Medicine respectively. Because of its low costs and the use of local resources, it is the solution not only for us here in the West - think of the excessive increase of costs every year - but especially also for poor countries.
6. Its health-oriented approach is dearly needed in situations where illness is largely caused by the lack of basic provisions like healthy wholesome food. VITALWORLD's flexibility makes it possible to adjust to every local culture and community. The flow system is an advanced scientific model, which simultaneously supports traditional views on health, integrating local roots with the benefits of modernization. Its structure shows "unity in diversity". Wherever you come, you will recognize the common factor, while enjoying the local difference. Details, some therapies, diets or exercises may be changed, but its inner dynamics will prove to be "universal". By giving it the local color, it may support the restauration of spiritual, cultural and social identity of various peoples worldwide. It is therefore the wish of the founder, that people from different cultures may sit together, to discuss in what way the flow system, the workbook and the training could be useful to them.
7. It is self-evident, that whenever it is needed cooperation is established with existing health care initiatives, like mother and child care, women's health, hygiene, community health, hunger projects, infectious diseases schemes, parasite prevention programmes, environmental health etc. In all these cases VITALWORLD will prove to be a powerful partner in achieving the objective. Knowing from experience that projects led by women are among the most sustainable, we are giving priority to women's initiatives.
8. Every effort has to be made to further development of health care worldwide, all initiatives are therefore to be supported. However, everything will prove to be in vain, if not referred to a scientific, practical and effective health oriented medical model. Only if people are given a useful instrument, with which they can have a positive feedback, in such a way that they feel acknowledged, encouraged, motivated and empowered, only then there will be a way out of the current stagnation. Personal experience and a meaningful context have to go hand in hand, so that people will find (regain) the strength to "take their health - as they see it - in their own hands". A people's health movement is what is needed. VITALWORLD is giving people such a model.
9. VITALWORLD aims at supporting poor people, organizations and countries in the "Third World" through the following ways:

The free distribution of the Flow System Therapy book

The free training of local Basic Health Consultants

To support Women's Community Health Initiatives

To support local Organic Agriculture Projects

To support local Environmental and Nature Conservation groups
10. The succes of our initiative depends on your enthusiasm. You may participate in two ways:
1. By transferring 50 euro's to our account. We then send a "Flow System Therapy" book to a "Third World" centre. You will receive the address of the Centre, so that you know where your book has landed.
2. To donate any amount you prefer. It will make further steps in supporting the "Third World" possible. Again, you will receive detailed report about how your money has been spent.
The Letter we send to "Third World" Centres
VitalWorld/Healing the Planet
Natural Medicine for the "Third World"
We are a leading Center for Natural Medicine in Holland since 1972, working on optimal health, prevention, lifestyle, regeneration, education and therapy of chronic diseases. Recently, because of the climate crisis, the Center - VitalWorld - extended it its activities to our "Healing the Planet in 7 Steps" project. One of our priorities is to support natural/holistic medicine initiatives in the "Third World".
In 1998 my wife MeiMei and I worked half a year in a hospital for the poor in Brazil. On request of the city of Curitiba, we have - in collaboration with WHO Healthy Cities - given an extensive course "Flow System Therapy" to the directors of various commune secretariats - Health, Education, Senior Care, Sports, Agriculture - which was received with great enthusiasm. We also had meetings with the poorest of the poor from local "favela's", talking about the principles of natural health. To our astonishment they immediately understood the essence, in a way, that their healer adopted it in his therapy package.
It dawned to us, that the "Third World" had an equally need for natural health and therapy. An approach, that is not symptomatic, but focuses itself on real improvement of health. Strengthening the immune-system, in fact, is one of the top priorities, after all. To make an optimal transmission possible, I wrote the handbook "Flow System Therapy" - content a.o. 200 self-help methods - (in English), a breakthrough in medicine, and a foundation for an effective, low-cost, natural, side-effects' free, people's health care. After our return to home, we created our internet site www.vitalworld.org, with a special chapter about our health contribution to the "Third World".
Our initiative consists of free sending of the "Flow System Therapy" book to as many as possible health care workers in the "Third World". Women self-help health groups are our priority, but community health centers, traditional healers, missionary posts and centers for organic farming are also included. With the help of the book we make it possible, that through self-study you will be able to incorporate the basic principles of natural medicine, while subsequently putting them into practice. Written coaching is part of the package. Until now - apart from Brazil - we have sent books to India, Russia (Siberia), Namibia, Ghana, Kenya, Zimbabwe and the Netherlands' Antilles. We want to reach many more people, though.
We are very happy to having come across your center and its admirable activities. We are sure, that natural medicine will be something you have great interest in. Hence, we have chosen to send you a copy of our book, including the possibility for you to receive future advice. Through it we dearly hope, that the wellbeing of your people will improve. You may inform us about your progress any time. If things go well, the project may become extended. F.i. help with translation of the book into your local language or clinical courses at the spot for which we will come to your country.
P.S. Please, send us addresses of other (non-commercial!) Centers in need, who also like to receive a book. Lots of success with your efforts!
Warm greetings,
Han M.Stiekema, M.D./MeiMei Yu, TCM therapist



Last update: 08/10/12